Financial Services & Legal Recruitment
Do you want an exceptional career? Hamilton Recruitment (Caribbean) is the #1 specialist with twenty years' expertise helping Accountants, Lawyers and Actuaries secure expat jobs offshore. 71% of our candidates apply for professional development reasons; 100% of them love the lifestyle that comes with it.
Exciting job opportunities with the Big Four, Offshore Magic Circle law firms, leading Re/Insurance companies, international Banks, Trust & Corporate Services providers, Funds, and boutique Insolvency practitioners.
If you believe you deserve an exceptional career, together we'll make it happen: take a look at our latest jobs.
Clients – If you are want to hire qualified professionals to build up your team or open a new office, let us be your talent partner. Retain us today and we'll save you time and money getting the high-calibre staff you need.
Quick Guide | Accelerate Your Career in the Caribbean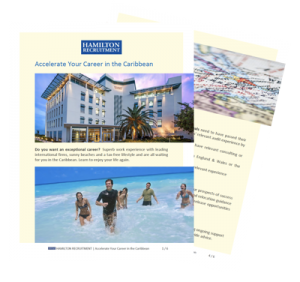 If you haven't thought about working in the Caribbean & Bermuda region before, find out more here.  The offshore business centres are thriving.   Download our guide now and learn how to upgrade both your career and lifestyle.  Income tax is as low as 0%.
Accelerate Your Career in the Caribbean | Hot Jobs by Email | View latest jobs
Listen to our new Industry Leaders podcast series